Pork Crisps - Case of 15 Bags
Regular price

Sale price

$103.00
15 Bags of Pork Crisps are included in this case.
Best value and free shipping! Great for gifting!
Paleo, Ketogenic & Preservative-Free
8G PROTEIN | 80 CAL | 5G FAT | 0G CARBS | PER 14G SERVING
Our Pork Crisps are handmade in small batches here on beautiful Vancouver Island. We use only the highest quality, traditionally raised local pork. Please specify which flavours you would like in your case.
*Please specify which flavours you would like in the "Add a Note" section at checkout.
EXAMPLE NOTE: "Pork Crisps Case - x5 Original, x5 White Cheddar, x5 Barbeque"
*If this is a gift please also tell us what you would like on the card included in the box.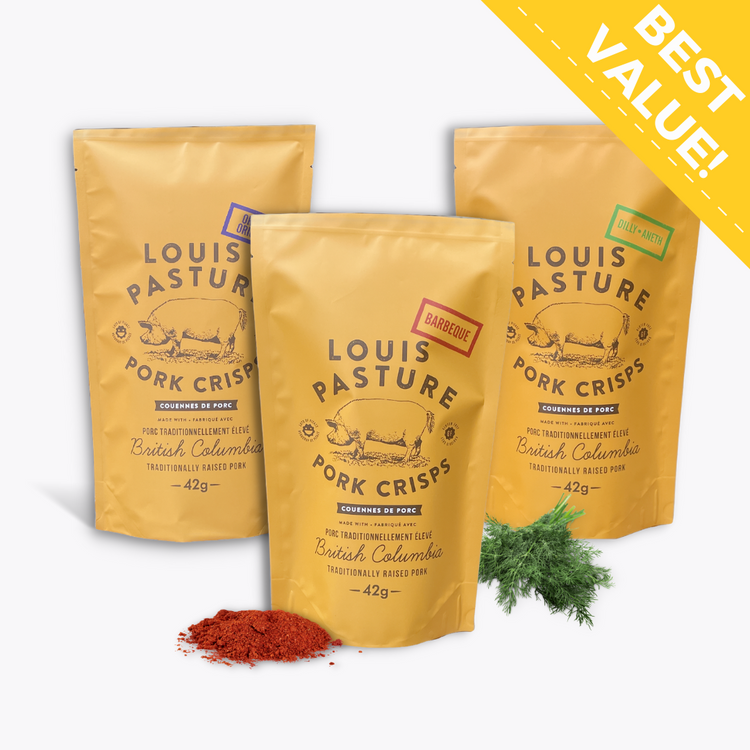 great service ..prompt delivery..
first time with flavours …all good…not keen on the dill or gingey ..no particular reason just overshadowed by the yummyness of the others…undecided on the beef chips
will be a reg customer
Snacking Masterpiece
Absolutely delicious! Louis Pasture Pork Crisps in Salt and Vinegar flavour are a game-changer in the world of snack foods. The crisps have a perfect crunch that's satisfying but not too hard on the teeth, and they're generously seasoned with just the right balance of salt and tangy vinegar. The flavour is so authentic. These crisps are not just a snack; they're an experience. Highly recommend!
We love them!
The best carnivore snack ever!
Pork Crisps - Case of 15 Bags